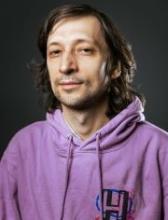 PhD in biophysics (2016). Molecular biologist, neurophysiologist, researcher of ion channels, membrane receptors and transporters, and RNA-editing enzymes physiological role in different cell types. Visiting researcher in the United States (University of Virginia in 2007, Universidad Central del Caribe in 2009), Singapore (2012-2013), UAE (2018-2019). Lecturer assistant of general physiology (Bohomolets National Medical University, 2013-2015), lecturer of evolutionary biology (Graduation department of Bogomoletz Institute of Physiology, 2018-2021), history of physiology and scientific literature seminar (KAU, 2019-2021), molecular physiology (KAU, since 2021). TEDxKyiv speaker, authored numerous popular science talks and articles.
Research interests: cellular and molecular physiology, RNA biology, membranology, evolution of cellular molecular mechanisms, arthropod physiology, history of biology, science communication, philosophy of science.
Selected publications
Publications: 14 articles, H-index 4 (Scopus).
https://orcid.org/0000-0002-8685-2890
Articles:
F. C. Howarth, G. Norstedt, O. I Boldyriev, M A Qureshi, O Mohamed, K Parekh, B Venkataraman, S. Subramanya, A. Shmygol, L. T. Al Kury. Effects of prolactin on ventricular myocyte shortening and calcium transport in the streptozotocin-induced diabetic rat. Heliyon 6 (4) e03797 (2020)
Drevytska, T., Morhachov, R., Tumanovska, L., Portnichenko G, Nagibin V, Boldyriev O, Lapikova-Bryhinska T, Gurianova V., Dons'koi B., Freidin M., Ivanisenko V., Bragina EY, Hofestädt R., Dosenko V. shRNA-Induced Knockdown of a Bioinformatically Predicted Target IL10 Influences Functional Parameters in Spontaneously Hypertensive Rats with Asthma. Journal of Integrative Bioinformatics, 15(4). (2018)
Sharop B., Boldyriev O, Shtefan N., Batiuk M., Shuba Y. Compensatory reduction of Cav3.1 expression in thalamocortical neurons of juvenile WAG/Rij rats. Epilepsy Research. V. 119, Jan, P. 10–12 (2016)
Novokhatska, S. Tishkin, V. Dosenko, A. Boldyriev, I. Ivanova, Ie. Strielkov, A. Soloviev Correction of vascular hypercontractility in spontaneously hypertensive rats using shRNAs-induced delta protein kinase C gene silencing. European journal of pharmacology. V. 718, 1, P 401-407 (2013)
Contacts
oleksiy.boldyriev@gmail.com