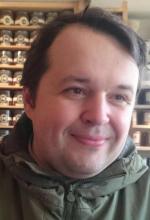 Genetics and Biotechnology (1999 - 2004) Ivan Franko National University of Lviv (Ukraine)
PhD. Biochemistry/Bioinformatics Department of Biochemistry, University of Cambridge (UK), 2010. 
Consultant for DNA Sequencing Analysis supporting transgenics team Medimmune (Cambridge, UK) 2010-2018.
Selected publications
Wlodek, A., Kendrew, S.G., Coates, N.J. Hold, A., Pogwizd, J., Rudder, S., Sheehan, L., Higginbotham, S., Stanley-Smith, A., Warneck, T., Nur-E-Alam, M., Radzom, M., Martin, C., Overvoorde, L., Samborskyy, M., Alt, S., Heine, D., Carter, G., Graziani, E., Koehn, F., McDonald, L., Alanine, A., Sarmiento, M., Chao, S., Ratni, H, Steward, L., Norville, I., Sarkar-Tyson, M., Moss, S., Leadlay, P., Wilkinson, B., Gregory, M. Diversity oriented biosynthesis via accelerated evolution of modular gene clusters. (2017) Nat Commun 8, 1206.
https://doi.org/10.1038/s41467-017-01344-3
Complete genome sequence of the erythromycin-producing bacterium Saccharopolyspora erythraea NRRL23338 M. Samborskyy, M. Oliynyk, J. Lester, T. Mironenko, N. Scott, S. Dickens, S. Haydock & P. Leadlay (2007) Nature Biotechnology 25, 447–453. https://doi.org/10.1038/nbt1297
Assembly of the highly similar sequences of the IS elements by the means of phrap and miniassembly maker perl scripts. Samborskyy, M., Oliynyk, M. Nature Protocols.
https://doi.org/10.1038/nprot.2007.182
https://orcid.org/0000-0002-6946-0385
https://www.scopus.com/authid/detail.uri?authorId=15926038800